As you may recall, when I was in Oahu this fall, I saw a guy riding a maxi, so naturally, I chased him down and followed him home. This is the best way to make friends, because then you already know where they live. Make sure to remind them of this when you greet them. His name was Mike, and he just sent me some pictures of his newest build. He says
"Here are some pictures of the ridgid i am building. I just got a nice rear fender and am waiting on a seat i ordered so i can powdercoat the seat pan and fender then get the seat reupholstered. I just got those spokes and cleaned them up the cool part is that the date on the rims and the date on my frame match thay are both 12/77. Thats a stock repro pipe but i have a nos magnum pipe that i would really like to run on it but i dont have a stock magnum j-pipe."
The people of the island love to sit on the beach and polish everything. Spokes, hardware, cases, everything. I guess if I could sit on the beach all day, I might as well polish something.
The Hawaiians have always had their own moped style. Perhaps its the isolation of the island, or just the endless moped weather, but they have always made sweet bikes.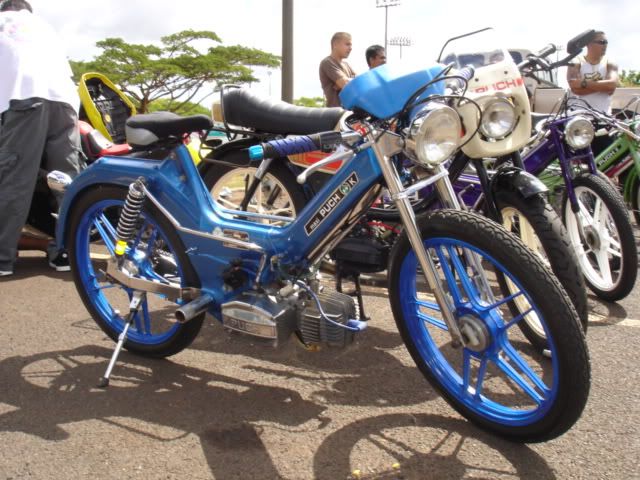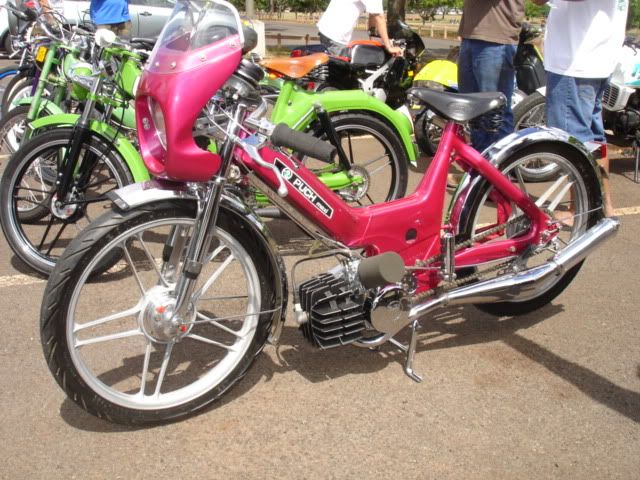 In Hawaii, you put a bicycle seat on your moped, and take the pedals off. It has always fascinated me how moped customization varies based on location.
You can look at a moped and say "That looks super Euro" and people understand what you mean. The variety of bikes popular in certain regions of the US are also entertaining. No one in Texas has ever seen a Sachs. Iowa must have had a law requiring 1 Honda Express for every registered voter. Mopeds could be a fascinating case study for a sociology grad student who liked mopeds and wanted to write a paper on them. For me, they will just keep me awake, dreaming about them, or blasting without a care through the world of the night.